Open: Monday – Saturday  /  10:00 a.m. – 10:00 p.m.
Closed Daily 1:00-2:30 p.m.
All doctor prescriptions for glasses, safety eyewear, and contact lenses are welcome.
Westover Market Place

(Exit 9A)
119 SW Loop 410, Suite 126
San Antonio, TX 78245
Phone:

(210) 680-3210
Fax: (210) 680-4210
   Email: aho@afterhoursoptical.com
Ingram Heights 

(Exit 12)
5841 NW Loop 410, Suite 106
San Antonio, TX 78238
Phone :

(210) 680 3211
Fax: (210) 680-3212
Email: aho2@afterhoursoptical.com 
Our Company:  After Hours Optical, Inc. was established October 13, 2005, thus celebrating our 11th year, serving the San Antonio and surrounding area.  We are excited to continue providing service and products to meet your needs during non-traditional hours.  "Tell a friend, we're open 'til 10!"
MISSION:  Providing professional eye care service on your time and budget, with family values!
PRODUCTS:  Our products include a little bit of everything during non-traditional business hours.
Our Business Philosophy:  Strong family values drive the objective of our business in providing you our customer, professional reliable eye care service with quality products to meet every budget.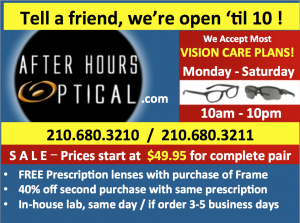 Package includes CR-39 Single Vision Lenses.  
Additional fees apply for bi-focals, progressives and other upgrades.   

See Optician for details and exclusions.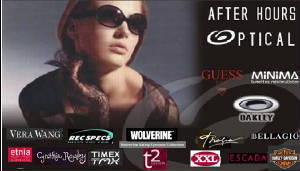 Certified by South Central Texas Regional Certification Agency of Bexar County, Texas as:
        WBE   – Woman-Owned Business Enterprise
        SBE    – Small Business Enterprise
        MBE    – Minority Business Enterprise
        HABE  – Hispanic American Business Enterprise
        ESBE   – Emerging Small Business Enterprise
        DBE     – Disadvantaged Business Enterprise,
Members of:
Academy of Opticianry Fellow
The American Board of Opticianry
Greater San Antonio Chamber of Commerce
Privacy Association
Academy of Management
Our Employees:  Continue education and self-development to enhance customer service and value to patients, which is key in our organization.
---